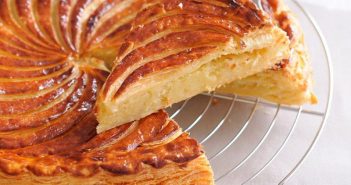 Liste des ingrédients
Puff pastry rolls (2) or homemade one 
125 g sugar (⅔ cup)
60 g softened butter (¼ cup)
2 eggs
150 g ground almonds (1 ½ cup)
1 vanilla bean
2 tbsp rum
1 egg (to give a golden color) and a pinch of salt
Optional : 50 g pastry cream for a real Frangipane (¼ cup)
Etapes de la recette
Beat the sugar and softened butter, then add the ground almonds.
Slice the vanilla bean down the middle to extract the seeds and add the seeds to the mixture.
Add 2 eggs and the rum (you can also use orange blossom water or bitter almond extract)
Roll out one sheet of puff pastry onto a baking sheet and pour some mixture over it (leave a 2cm - 1 inch border around the edges). Brush the edges with water.
Press a fève into the filling (porcelain or plastic figurine) if you like and then put a second sheet of puff pastry on top. Press the edges to seal the cake.
Mix an egg yolk and a pinch of salt, and then brush some of it on top of the cake.
Refrigerate for 30 minutes. Remove from the fridge and use a knife to draw patterns on the pastry. Be careful not to puncture the pastry ! Brush the cake again with the egg yolk.
Refrigerate again for 20 minutes and during this time, preheat the oven at 180°C (350 F).
Bake at 180°C (350 F) for 40 minutes (a bit more if it's a big Galette or if you have made your own pastry).
Shall I make my own puff pastry ?
If you don't have time to make the puff pastry yourself, as you need time for this (see my homemade puff pastry), make sure you buy a good quality one. You can find really good ones nowadays and that might save you some time. 🙂
Shall I go for a traditional filling or an original one ?
The traditional filling called Frangipane, is made of almond filling and pastry cream (half and half). Some of you might want to add bitter almond extract or rum (even better) for a bit more flavor.
For a quick recipe, as in the above, you can just make a simple almond filling..it will be less gooey than with pastry cream, but it will be lighter and quicker to make.
This year, why not be creative ! Add some berries. They will contrast with the sweetness of the Galette. My tips ? Use raspberries, redcurrants, blackcurrants, blueberries ….or apples, pears..they also taste really nice with the almond filling.
If you are a chocoholic … you are not the only one ! That's why you can add 3 tablespoons of chocolate spread or melted chocolate or cocoa powder in the filling 🙂
Last tip for the filling : if it's too liquid, place it for 30 minutes in the freezer before spreading it on the puff pastry…the butter will set and the filling will be thicker.
Regarder la recette expliquée en vidéo
Voir plus de recettes