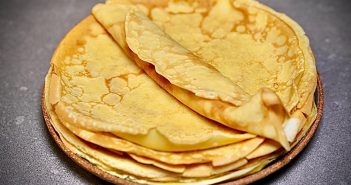 My quick and easy recipe for French crepes. Easy to make for a delicious result. They are golden, fluffy and flavorsome and not too sweet (which allows you to put whatever tasty filling you like in them :). I'm sharing all my tips with you to make sure they are going to be a success.  I usually grease my frying pan with butter every other three crepes. I put them aside under some foil before serving them so that they remain warm and soft. I would also like to  suggest a great recipe to make fluffy and crispy waffles, one for nutella crepes or another version for richer Candlemas crepes which is also excellent. If you are interested in my recipe for Crepes Suzette or the Tiramisu crepes, check them out !
Liste des ingrédients
250g sifted all-purpose flour (2 cups)
4 eggs
450ml lukewarm milk (a bit less than 2 cups)
2 tbsp amber rum or orange blossom water, or ½ glass beer
1 tbsp vanilla extract
2 tbsp sugar
1 pinch of salt
50g melted butter (¼ cup)
Etapes de la recette
Melt the butter in the microwave and heat the milk which has to be lightly lukewarm (to avoid lumps in the batter)
Mix the sifted flour, the sugar and the salt in a mixing bowl. You can replace 50g (⅓ cup) of flour with some cornstarch if you want your crepes to be more fluffy.
Add the eggs, the melted butter, and then gradually add the milk while whisking to avoid creating lumps in the batter.
Add the beer or the rum, or the orange blossom water and let the batter stand for 30 minutes before cooking.
Grease your pan with a little butter and pour the batter into the pan using ladle.
Cook on each side until golden brown.
Put the crepes aside on a plate as you go along, and put a piece of foil over them to keep them warm and soft. You should be able to make between 15 and 20 crepes with a 20 cm pan (8 inch pan).
My tips to make great French crepes
How to make your crepes more fluffy ?
You can replace some of the all-purpose flour with some cornstarch  – I recommend using 200g flour (1 ⅔ cup) + 50g cornstarch (⅓ cup). Generally speaking, you can mix different types of flour, for example you can replace some of the all-purpose flour with some whole wheat flour, to bring in more fibers.
Adding some beer can be a good thing and I have the impression that it also makes the crepes more fluffy but it is optional. Note that alcohol evaporates when you cook it but the flavor remains. I'm quite sensitive to alcohol but I have no problem flavoring crepes with beer or rum ! To flavor your crepes, why not add one or two tablespoons of other types of alcohol, such as cider or rum syrup (non alcoholic) or some saffron infused in milk !
How to make some wonderfully flavored crepes.
Infuse a split vanilla bean in some milk and bring it to the boil. Then let it cool down for 15 minutes. Remove the bean and use the infused rich vanilla flavored milk in the recipe.
Personally I think that beer can make your crepes really fluffy and give them a really nice flavor at the same time. Yet, if I have the choice, I prefer to use a tablespoon of amber rum or orange blossom water or the zest of half an orange. You can also use some tonka beans which can give your crepe batter a lovely flavor.
How to make the perfect batter ?
Why let the batter stand ? I recommend letting the batter rest at room temperature for at least 30 minutes before cooking the crepes. That way, the batter is smoother, less runny and spreads more evenly (all around the pan). Some of you suggested that letting the batter rest for a whole night (in this case cover the batter with some plastic wrap) was amazing, resulting in even fluffier crepes !
Why heat the milk ? If you use lukewarm milk, the flour and the cornstarch will dissolve easily, so that you won't get any lumps and you also reduce the resting time by doing so.
Cooking tips :
Your pan must be hot and slightly greased otherwise it's a recipe for disaster !
Have some melted butter ready in a bowl and use a scrunched up paper towel to grease your pan every time you cook a new crepe. That way, you use less butter and it's cleaner.
How to present your crepes ?
Rolled, folded in 4, rolled like a spring roll, in a parcel or like a cake , the choice is yours. My favorite ones : crepe parcels tiramisu style, Crepes Suzette or rolled crepes with chocolate hazelnut spread.
What about a savory version ?
Usually, savory crepes are made with buckwheat flour. Note that buckwheat is not a cereal but a plant whose seeds are gluten-free.They are full of proteins. You can also use the classic crepe recipe above to make savory crepes. There is no law against it ! In this case, I'd recommend not adding the sugar, the vanilla and the rum. Their taste will be more neutral that way.
Here are some ideas for savory crepes :
Filled with bechamel sauce, ham or chicken breasts and grated cheese. In this case, warm them up in the microwave or in the oven at 180°C (350°F) to allow the cheese to melt.
Filled with leek fondue and cooked salmon or smoked salmon.
Crepes with potatoes cut in small pieces, and strong cheese such as French reblochon and bacon lardons or bacon slices.
Crepes with goat cheese, honey and toasted almonds.
Regarder la recette expliquée en vidéo
Voir plus de recettes