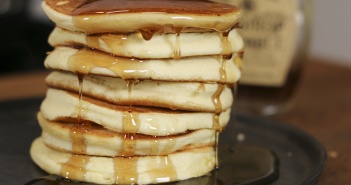 My best pancake recipe, easy and quick to make !
Authentic pancakes like the one you eat in the US, very fluffy texture with a special tip: let the dough rest for 30 minutes before adding the whipped egg whites. You won't stop making them once you have tested this recipe that's really easy and great … for your brunch, breakfast or a snack, everyone will love them … Also use this recipe to make blinis (without sugar) or use this other blinis recipe made from buckwheat flour. In general, those who like pancakes also like the recipe for light waffles or chocolate rolled crepes!
Liste des ingrédients
2 eggs
150 ml (⅔ cup) of Milk
1 tsp vanilla extract
125 g (nearly 1 cup) flour 
1 tsp baking powder
2 tsp sugar 
1 pinch of salt
Butter or oil to grease the pan
Etapes de la recette
In a large bowl, mix the dry ingredients: flour, yeast, sugar, salt and vanilla
In another bowl, mix the 2 egg yolks with the milk then add to the dry ingredients and mix with a spoon, you will get a thick batter that you can let stand for about 30 minutes
Whisk the egg whites and add them delicately to the batter (this is the secret of ultra soft pancakes)
Cook in a greased frying pan for 1 minute on each side
The edge should be golden, and small bubbles should form on top, it's time to flip the pancake!
How to master this great pancake recipe ? I'm answering your questions !
My recipe is very lightly sweetened (you could totally remove sugar from the recipe), but also use sugar substitute like maple sugar, agave and so on. I also like to eat my pancakes with maple sirup on top, which adds sweetness.
Add fruits or chocolate chips : It's fun, you can add blueberries (fresh or frozen) or slices of banana, or chocolate pieces on top of your pancakes when you start baking them, then flip them around, fruits will caramelize and chocolate will melt, it's so yummy !
Eat them later : clearly if you want to keep your pancakes moist and squeeshy for the next day, wrap them into cling paper. When you're ready to eat them, 10 seconds in the microwave will make them brand new, or 30 seconds in the toaster.
Freeze them ! No problem at all, you can freeze your pancakes (cooked and wrapped or in a ziplock bag) for up to 3 months. Same as above, you can reheat them in the microwave or use your toaster. 5 minutes at 350°C F will also do the trick. 
Replace milk for a lactose-free version: of course ! I've tested with almond or soy milk, it works fine. Coconut milk also.
Whisk your egg whites…  You don't have to but I highly recommend doing this to get fluffier pancakes. Within minutes, by hand or with a hand mixer, you will get firm eggs whites to add to your batter.
Prepare the batter ahead ? You can do that one day ahead, but 2 things : cover your batter with some cling paper that touches the batter, and do not add the egg whites, wait the moment you are ready to cook your pancakes to do so.
Here are YOUR best tips from the Youtube comments :
Replace sugar by agave syrup
Create a pancake tour that will look like a cake, by doing big round pancakes and frosting the cake with whipped cream
Add blueberries to the batter, or chocolate chips, or swirls of nutella…
Add lemon or orange zest to the batter, some rhum or other natural flavors
Mix different types of flours, like whole wheat with regular flour to get more fibers
Regarder la recette expliquée en vidéo
Voir plus de recettes