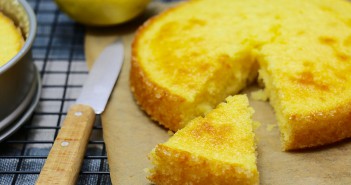 This soft lemon cake tastes so good ! It's easy to make and everyone will love it ! You can make this cake with an orange instead of the two lemons. 🙂 If you love lemons, here are 3 essential recipes you must look at : lemon meringue tart, mini lemon cakes, and lemon meringue cupcakes.
Have a look underneath, I have answered most of your questions to give you plenty of tips to make a success of your lemon cake. 🙂
Liste des ingrédients
125g butter (½ cup)
125g sugar (⅔ cup)
125g all-purpose flour (1 cup)
2 eggs
2 unwaxed lemons
2 tsp baking powder
1 pinch of salt
Etapes de la recette
Beat the softened butter and the sugar together in a mixing bowl until creamy. Add the eggs one by one and mix.
Zest the lemons and then juice them. Add to the mixture and beat.
Mix the flour, the baking powder and the salt in a separate bowl, and gently stir them into the mixture.
Butter two small springform pans (16 cm / 6 inch cake pan), sprinkle some sugar over them, pour the batter, then smooth it evenly. You can also use a single big springform pan (18 to 22 cm / 7 to 9 inch cake pan).
Bake for 20 to 25 minutes at 180°C (350°F). Let the cake cool down for 10 minutes before you remove it from the pan.
My tips to make a great moist lemon cake
Hello, I have read your comments and questions on my blog and on my Youtube channel and here are my tips to answer your questions and to help you. I wanted to thank all of you who share their own tips as well.
The size of the cake pan : don't use anything bigger than a 9 inch cake pan (22cm), to ensure that you get a soft well risen cake, otherwise it might be too flat. I usually use 7 to 9 inch cake pans (18 to 22 cm).
If you use this recipe to make muffins, reduce the baking time. 15 to 20 minutes should do.  After 15 minutes, insert a thin clean knife into a muffin to check if it's cooked. The knife should come out clean (without any uncooked batter), that means your muffins are ready.
Your cake doesn't rise ? Check that you haven't forgotten to add the baking powder to your mixture  – it can happen, even to the best of us ;). If your batter is cold, the thermal shock will help your cake rise, so it's a good idea to refrigerate your cake pan with the batter for 15 minutes before putting it into the oven.
To turn out your cakes easily…Butter and flour your cake pans or buy some non-stick cooking spray (you can easily find some in the baking section in supermarkets). Alternatively, line the base of your cake pan with parchment paper. Don't forget : always let your cake cool down for 10 to 15 minutes before turning it out.
Can I replace the butter with some zucchini?
Absolutely ! As I did with my chocolate zucchini cake, just grate 150g (1 cup) of zucchini (don't forget to press the grated zucchini with your hands to remove any moisture). In that case, whisk the eggs together with the sugar, and then add the other ingredients. You can also use apple puree, almond butter, coconut oil or a lemon yogurt to replace the butter.
A lemon glaze for my lemon cake ?
With this moist lemon cake, you can add a sweet glaze which is going to go well with the bitterness of the lemon (lemon juice and powdered sugar or egg white and powdered sugar) or a chocolate glaze : 150g dark chocolate (1 cup) + 150ml (⅔ cup) whipping cream, heat and whisk. Let the preparation cool down for 30 min before spreading it on the cake.
Regarder la recette expliquée en vidéo
Voir plus de recettes