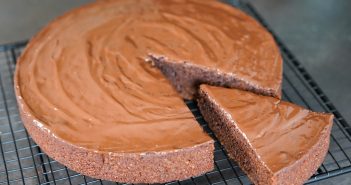 If, like me, you love simple moist chocolate cakes with a rich chocolate taste, go for this recipe. Why ? Because with this zucchini chocolate cake without butter or sugar, you can indulge in another piece without feeling guilty. 🙂 I have added a special ingredient which replaces the butter (or any fat), without spoiling the taste and the result is a moist cake :  grated zucchini ! Instead of sugar, I have used some stevia, a natural sweetener which contains zero calories… You only need to select some fresh eggs and some quality baking chocolate. If you wish to try another recipe, have a look at my recipe for gluten-free chocolate and orange cake with no butter.
Liste des ingrédients
20g unsweetened cocoa powder (¼ cup)
30g cornstarch or flour (¼ cup)
40g stevia or 80g sugar (⅓ cup stevia or a bit more than ⅓ cup sugar)
200g baking chocolate (between 50 and 70%) (a bit more than 1 cup)
200g grated zucchini (a bit more than 1 cup)
4 eggs
Some vanilla extract
Etapes de la recette
Start by chopping the chocolate, then place it in the microwave to melt (2 x 1 minute). Stir until smooth.
Peel the zucchini and grate it into fine shreds. Try to obtain 200g of zucchini (a bit more than 1 cup before draining it).
Separate the egg yolks from the whites.  Beat the egg yolks, the stevia and the vanilla extract.
Add the cocoa powder, mix and add a bit of zucchini.
Add the cornstarch and the melted chocolate once it has cooled down (keep 3 tablespoons for the glaze) and mix again thoroughly.
Add the rest of the zucchini and stir.
Whisk the egg whites and fold them into your mixture to create air bubbles.
Pour in a non-stick cake pan and bake for 30 minutes at 180°C (350 F).
Once your cake has cooled down, glaze it evenly with the rest of the chocolate. You can then sprinkle some grated coconut or some chopped hazelnuts.
Zucchinis make your cake moist and replace the butter. When you whisk the egg whites, the texture of your cake is more fluffy and pleasant to eat. It's ideal if you want to indulge without feeling too guilty !
Don't forget to use a rather small cake pan (18 to 22 cm max / between 7 and 9 inches max) so that your cake doesn't end up too flat… insert a thin clean knife into the cake to check if it's cooked. The knife should come out clean (without any uncooked batter), if not, cover with some foil and bake for another 5 to 10 minutes so that the center cooks well.
Step 2 : Grate the zucchini and press it to remove any excess moisture
Step 3 :  separate the egg yolks from the whites then mix the egg yolks with the sugar
Step 4 : add some vanilla extract
Step 5 : whisk the mixture until foamy
Step 6 : add the melted chocolate once it has cooled down and keep some for the glaze
Mix thoroughly and carefully
Step 7 : Beat the egg whites
Step 8 :  mix carefully to create air bubbles
Step 9 : pour into a cake pan (18 to 22 cm / 7 to 9 inches) then place in the oven
Step 10 : Glaze with the rest of the chocolate
Serve cold, the texture is amazing !
Regarder la recette expliquée en vidéo