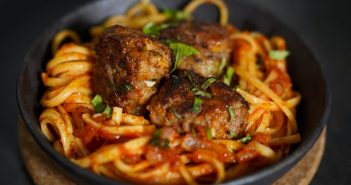 Also available in:
Français
My recipe for incredibly tender meatballs and spaghetti in homemade tomato sauce…nice. I use ground beef, grated grana padano and French biscotte dipped in vegetable stock (but you can use breadcrumbs). The sauce is easy to make. Let it simmer for at least 30 minutes on low heat, it will be lovely. Right, talking about good old classics, here is my recipe for homemade pizza or the one for tiramisu. 😉
List of ingredients
Dried pasta (spaghetti or other) - 150-200 g per person (1 ⅔ to 2 cups per person)
300 g ground beef (or veal, chicken or ground pork) 2 cups
100 g grated grana padano or parmesan (1 cup)
1 garlic clove
1 shallot
3 French biscottes or 1 big slice of dry bread or 4 tbsp breadcrumbs
fresh parsley
thyme ou oregano
a bit of flour
For the tomato sauce
400 ml passata or tomato puree (a bit more than 1 ½ cup)
1 tbsp tomato paste 
olive oil
1 onion
1 garlic clove
1 tbsp dried herbs (oregano or thyme) 
fresh basil
Salt and pepper
Steps for the recipe
Cook the pasta in a large saucepan of boiling water. Add the salt at the last minute. Don't add any oil to the water, that's not needed. Although, right after draining your pasta, you can add a bit of olive oil so your pasta doesn't stick.
To make the tomato sauce : heat some oil in a pan, add the chopped garlic and onion, then add the tomato paste as well as the tomato puree. Add the dried herbs and let simmer for 30 minutes on a low heat. I added a teaspoon of sugar in my sauce to balance out the acidity of the tomatoes.
To make the meatballs : in a large bowl, mix the ground beef, fresh parsley, breadcrumbs, grana padano, pepper and the sliced garlic and shallot.
Shape the mixture into balls, then roll them into a bit of flour. Cook them in a pan with a bit of oil for 6 or 7 minutes.
Serve the meatballs and spaghetti with some fresh basil.
Watch the recipe on video