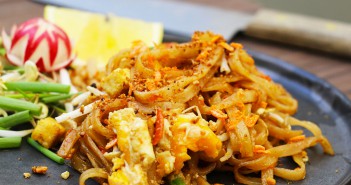 Also available in:
Français
After the delicious Thai green chicken curry recipe , Thai Chef Lek has agreed to prepare another recipe with me, a Pad Thai : the famous Thai stir-fry noodles. This dish is quick to make and can be served directly after cooking, it's a treat for the eyes and taste buds. You can use tofu, strips of chicken, pork or shrimps, or a combination. Watch the video to follow the recipe step by step and make the perfect Pad Thai like a Chef !
List of ingredients
Scallions
2 tbsp crushed roasted peanuts
2 tbsp brown sugar
1 tbsp dried shrimps
2 tbsp sunflower oil
Tamarind pulp
Firm tofu
Bean sprouts
2 shallots
2 eggs
1 lemon
Rice noodles
Fish sauce
Optional : shrimps or strips of chicken
Steps for the recipe
Soak the noodles in hot water until soft
Place a ball of tamarind pulp into 100ml of hot water (a bit more than ⅓ cup), mix and press through a sieve to get the juice out
Cut the tofu into cubes and put aside. Thinly slice the shallots and cut the scallions (cut into 2cm / 1 inch lengths)
Heat some oil in a wok and add the tofu. Cook until brown, then put aside
Fry the shallots, tamarind juice, brown sugar and fish sauce, then mix. Let the mixture thicken like you would with caramel for about 3 minutes
Drain the noodles and add them to the pan. Stir-fry (add a bit of water if needed)
Break 2 eggs onto one side of the wok, fry them and then scramble them gently (keep some nice big chunks of white and yellow). Mix them with the noodles
Add the tofu, peanuts and dried shrimps
Remove from heat and then add the bean sprouts and scallions (to keep them crunchy) and stir all the ingredients together. Serve with a slice of lemon
Tips
If you don't have all the right ingredients, I'm sure you will find ways to replace them. You can make this recipe with :
– other types of noodles (wheat noodles, udon noodles, even spaghettis !). In this case, cook them al dente – whereas rice noodles only need to be soaked in hot water to rehydrate.
– other sauces, even if the basic recipe sauce is tamarind sauce + fish sauce, you can use soy sauce instead (sweet or sour) or other types of ready-made Asian sauces.
– Proteins : I used shrimps, tofu and eggs. You can also use chicken, beef, squid.. of course, it won't be the classic Pad Thai recipe, but it will taste good and that's the most important thing, isn't it ? 🙂
Watch the recipe on video
View more recipes