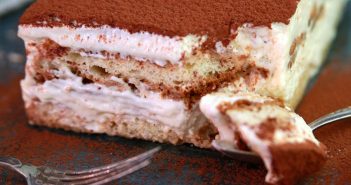 Also available in:
Français
Here is my best recipe for a tiramisu with a twist : speculoos cookies (optional). Try it, you will become a fan of this easy and tasty version. Its melt-in-the-mouth texture is firm but light… The speculoos cookies bring a crunchy texture with a cinnamon flavor which goes really well with the coffee. This tiramisu recipe is also quick and easy to make. See pictures of the steps below as well as the video. Don't hesitate to give us your tips in the comment section and to rate this recipe. Depending on the season, you can also check out my tiramisu recipe with strawberries or the one for a light tiramisu or the one called tiramisu with rose and lychee.
List of ingredients
250 g mascarpone cheese (1 cup)
20  Lady Fingers
100 g sugar (½ cup)
4 eggs
1 cold black coffee (in a bowl)
1 vanilla bean or a tbsp of vanilla extract 
20 Speculoos cookies
Amaretto or Marsala or Rum (optional)
2 tbsp powdered sugar
2 tbsp unsweetened cocoa powder 
Steps for the recipe
Make a long black coffee and let it cool down. You can flavor it with some alcohol or caramel syrup or leave it as it is.
Separate the egg yolks from the whites and put the egg whites aside.
Beat the egg yolks, sugar and vanilla until you get a foamy texture.
Beat the mascarpone with a whisk, then add the egg yolk mixture and sugar. Mix gently with a spatula.
Beat the egg whites until stiff peaks are formed, then gently add to the mixture.
Dip the Lady fingers into the cold coffee for 3 seconds (they must be soaked but not too much) and place them at the bottom of the dish.
Spread a layer of the mixture on top, then add some Speculoos cookies (I also dip them into the coffee), and add another layer of the mixture.
Refrigerate (ideally for a whole night).
Before serving, sprinkle some powdered sugar on top and then some cocoa powder. 
How to make a great tiramisu
Firm but creamy, that's how I like my tiramisu. My favorite version is this recipe, because it contains speculoos cookies. They add a crunchy texture and a cinnamon twist which goes really well with the coffee. With this step by step recipe, you will learn everything you need to know about tiramisu, I promise !
Watch the recipe on video
View more recipes