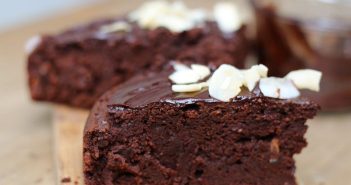 Also available in:
Français
Egg-free dairy-free moist vegan chocolate cake 
This recipe for a moist vegan chocolate cake is easy to make, and even if you are not a vegan, you will love it ! The texture is amazing, very moist and rich without being heavy. Chocolate bliss and 100% plant-based. Instead of dairies, I use coconut milk and coconut oil and instead of eggs …apple sauce. If you are a vegan, make sure you pick dairy-free baking chocolate. Find all my vegan recipes here.
List of ingredients
300 g baking chocolate (chopped) (a bit more than 1 ¾  cup)
280 g all-purpose flour (2 ⅓ cups)
80 g unrefined whole cane sugar (⅓ cup)
500 ml coconut milk (2 cups)
75 ml coconut oil (⅓ cup)
30 g shredded coconut (⅓ cup)
100 g apple sauce (a bit more than ⅓ cup)
1 tsp vanilla seeds
1/2 tsp baking soda
1 pinch of salt
1 tsp baking powder
Steps for the recipe
Cook the coconut milk, vanilla seeds and shredded coconut on a medium heat for a few minutes.
In a large bowl, place the chopped chocolate and pour the warm mixture over it. Mix gently until smooth.
Add the coconut oil, apple sauce and sugar while whisking as you go along.
Add the salt, baking powder, baking soda and flour (sift it for a better result). Mix well then pour into a greased cake pan (22 cm / 9 inches)
Bake for 35 to 40 minutes at 180°C (350 F). Remove the cake from the pan. You can glaze it with melted chocolate and top it with shredded coconut if you like.
It's totally possible to replace some ingredients in your recipes to make your cakes 100% vegan.
Apple sauce is a good egg substitute. Use 50g (¼ cup) of apple sauce instead of an egg. Dairy products can be replaced with plant-based products from coconut, soy, almonds etc (milk = plant-based milk, butter = vegetable oil or margarine, heavy cream = coconut cream …)
Another great tip : if you need to use egg whites in a recipe, use chickpea water instead (garbanzo bean) as in my Vegan chocolate mousse with aquafaba. It works wonders.
Finally, as you know, butter can be replaced by shredded zucchini, as you have seen in my recipe Chocolate zucchini cake recipe with no butter or sugar
Watch the recipe on video