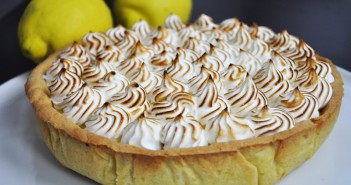 Also available in:
Français
Here is my best lemon meringue tart recipe, with a homemade shortcrust pastry, a well-balanced lemon curd and a lightly toasted meringue. It's a classic you can easily make at home. There are no fancy ingredients, you can even use a pre-made pastry case from the grocery store,if you don't fancy making it, otherwise, just follow my recipe to make one. With or without meringue, the choice is yours. One of the most popular videos on Youtube. Approved by thousands of internet users. You can use lime, or why not grapefruit or some oranges to vary the recipe.
List of ingredients
For the shortcrust pastry
250g all purpose flour  (2 cups)
150g chilled butter cut into small pieces (⅔ cup)
50g sugar (¼ cup)
50g  powdered sugar (½ cup)
1 egg
a pinch of salt
For the lemon curd :
150ml lemon juice (3 or 4 lemons) (⅔ cup)
lemon zest from 1 natural unwaxed lemon
150g sugar (or less according to taste) (¾ cup)
3 eggs
1 tbsp cornstarch or flour
75 g butter (⅓ cup)
For the meringue (optional)
2 egg whites
75g sugar (⅓ cup)
Steps for the recipe
Shortcrust pastry :
Beat the egg, the salt and the sugars.
Add the flour and mix.
Add the softened butter and rub in quickly. Roll into a ball.
Cover in plastic wrap and refrigerate for at least one hour.
Roll out the dough and place it into a tart pan. Line the tart shell with baking paper and dried beans, or clay baking beans or metal chains (you can find them at the supermarket).
Bake for 10 minutes at 180°C (350°F), then carefully remove the baking paper with the baking beans and bake for another 8 to 10 minutes to make sure the center is evenly baked. Bake until the crust is golden brown.
Put your pastry case aside.
Lemon curd
Zest a natural unwaxed lemon.
Heat the lemon zest and lemon juice to a boil.
Beat the eggs, sugar and cornstarch in a bowl.
Slowly add the lemon juice while still whisking the mixture
Transfer everything back to the saucepan and cook on a medium heat while stirring constantly. Gradually your mixture will thicken.
Let it cool and then add the small pieces of softened butter to the mixture and whisk.
Pour into the pre-baked tart shell and transfer to the fridge to chill.
Meringue (optional) :
Beat the egg whites until stiff peaks are formed, then add the sugar and whisk for another few seconds.
You can use a piping bag to fill in the tart shell, then toast the meringue by placing the tart into an oven for a minute (grill setting) until the meringue is golden (like in the video). To go faster, you can also toast the meringue with a kitchen blowtorch…
Watch the recipe on video
View more recipes