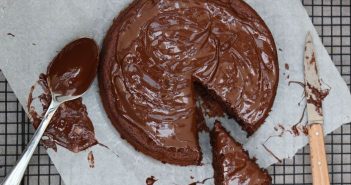 Also available in:
Français
List of ingredients
300 g (2 large ones) cooked beets (vacuum-packed, boiled or steamed beets)
200g baking chocolate (a bit more than 1 cup)
2 tbsp unsweetened cocoa powder 
150 g (¾ cup) sugar or substitute (100 g / ½ cup is enough if you don't like your cakes too sweet)
4 eggs
1 tsp of baking powder 
1 pinch of fleur de sel
2 tsp of vanilla extract
80 g all-purpose flour (⅔ cup)
50 g ground almonds ( a bit more than ⅓ cup)
Steps for the recipe
Puree the beets in a food processor
Beat the eggs, sugar and vanilla in a bowl until fluffy then add the beet puree. Mix.
Melt the chocolate (you can either use a Bain Marie or microwave) then let it cool down.
Add the chocolate to the egg mixture.
Add the ground almonds then add sifted flour, baking powder and cocoa powder. Finally add the fleur de sel.
Stir well and pour into a non-stick or slightly greased cake pan (mine is 22 cm / 9 inches)
Bake for 35 minutes at 180°C (350 F).
Once your cake has cooled down, glaze it evenly with the rest of the chocolate. 
Watch the recipe on video