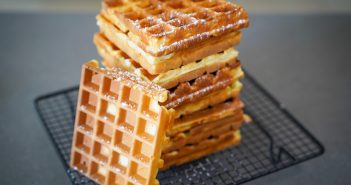 Also available in:
Français
My best recipe for homemade waffles which are light and crispy. Whereas most recipes require 50 to 100g butter (¼ cup to almost ½ cup ), you will only need 4 tablespoons of sunflower oil here or melted butter (or coconut oil) for 10 waffles.
The texture is super crispy on the outside and soft in the middle. If you are watching your weight but really feel like some waffles, this recipe is made for you. They are only slightly sweet (I only use 1 teaspoon of vanilla sugar), that way they are great for snacking with some jam, powdered sugar, honey or chocolate spread…but also great for savory snacks with guacamole or avocado, cream cheese and smoked salmon etc. Extra tips : let the batter stand for 30 minutes before adding the egg whites. Also watch my recipe for fluffy French Crepes here or the one for fluffy pancakes.
List of ingredients
160g all-purpose flour (1 ⅓ cup)
4 eggs
200ml semi-skimmed milk (or plant-based milk) (a bit more than ¾ cup)
2 tsp baking powder
1 tsp vanilla extract
4 tsp sunflower oil or grape seed oil  or coconut oil or melted butter
1 pinch of salt
Steps for the recipe
Mix the flour, salt, vanilla and the baking powder in a large bowl.
Separate the egg yolks from the whites.
Add the egg yolks and the oil to the mixture, then gradually pour in the lukewarm milk. Whisk to get a smooth batter without lumps.
Let the batter stand for at least 30 minutes to get a thicker batter, then whisk the egg whites and add to the mixture.
Cook the waffles (you can make 10) - preheat your waffle iron to make sure it's hot and then coat with a little non-stick cooking spray or brush sunflower oil onto the iron, to prevent the waffles from sticking.
Alternative recipe : For fluffy waffles using sweet potatoes, which you can then eat with avocado and salmon for example :
Sweet potatoes savory waffles
125g all-purpose flour (1 cup)
2 tsp baking powder
1 tsp curry powder
200g mashed sweet potatoes (1 cup) – cook in the oven at 180°C/350 F for 45 minutes
2 eggs
40g melted butter (a bit less than ¼ cup) or 4 tbsp olive oil
6 tbsp milk (or plant-based milk or coconut milk)
Mix all the dry ingredients, then add the egg yolks, the milk and the melted butter as well as the mashed sweet potatoes.
Add the egg whites and cook the waffles, it's as simple as that !
Watch the recipe on video
View more recipes